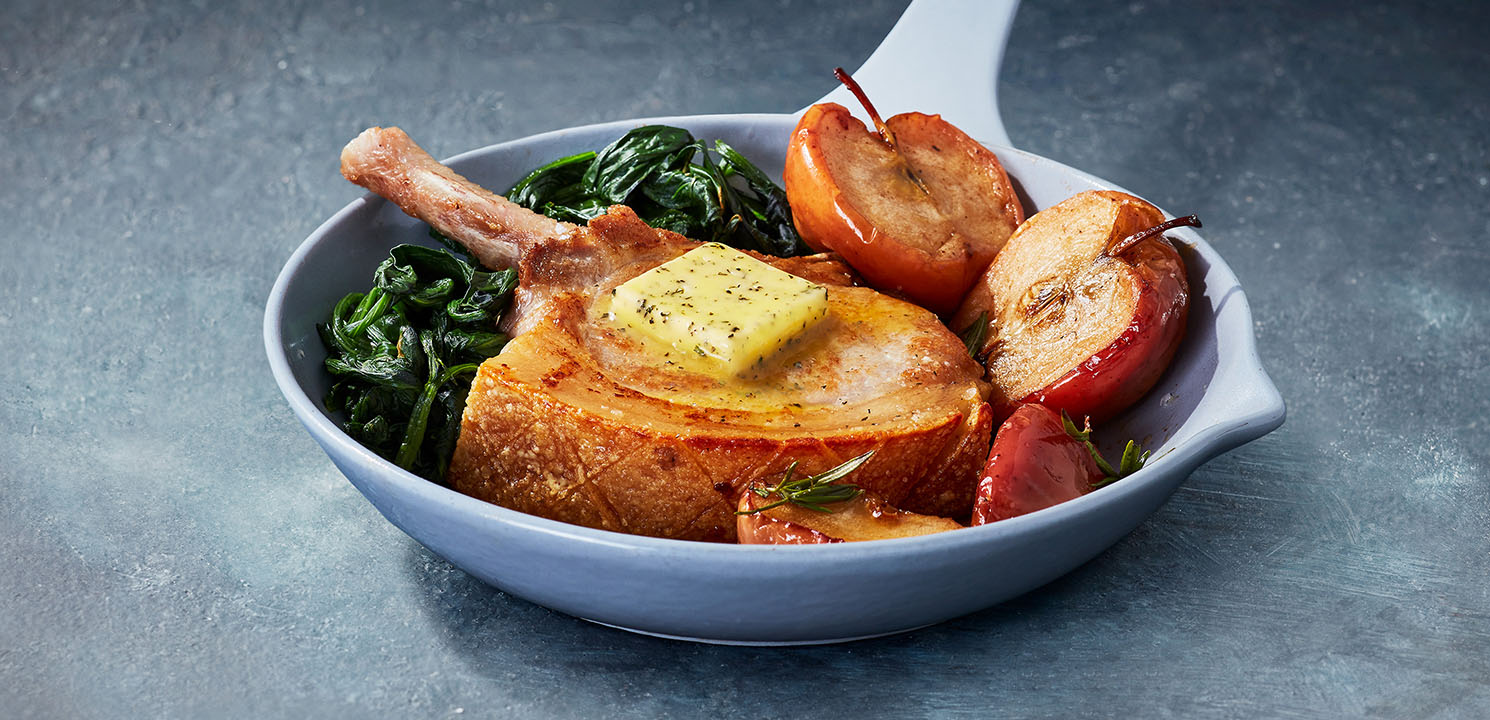 Method
Pre-heat oven to 180oC (fan-forced).
Halve apples, add salt and pepper and a drizzle of olive oil and maple syrup. Cook for 15-20 minutes, turning after 15 minutes until slightly caramelised. 
With a sharp knife, lightly score pork rind with a criss-cross pattern then rub a generous amount of salt into the rind.
Place olive oil in a fry pan over a medium-low heat. Using tongs to hold the cutlets, press skin edge into the pan. Cook rind slowly, about 3 or 4 mins to make crispy. Remove from pan, increase heat to medium-high then sear each chop side for 1-2 mins, until slightly brown. 
Add pork chop/s to a roasting pan with a knob of Mainland Rosemary & Thyme Butter on top and cook for a further 15-20 mins until browned and tender.  Turn once at the halfway mark during cooking.
Steam spinach in a pot for 2-3 minutes until tender and drain.
Serve the pork chop, caramelised apples and spinach.  Finish with another knob of Mainland Rosemary & Thyme Butter and scatter a few sprigs of fresh thyme on top for extra flavour.
Tips
For added flavour, stir through a knob of Mainland Garlic Butter into the cooked spinach.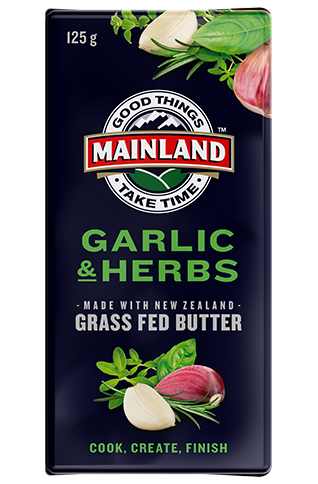 In This Recipe
Rosemary & Thyme Butter
---
Pure Mainland butter with the perfect pairing of Rosemary & Thyme. This butter delivers the aroma and freshness to turn everyday dishes into a flavour sensation.  Cook, create, finish!
View Product