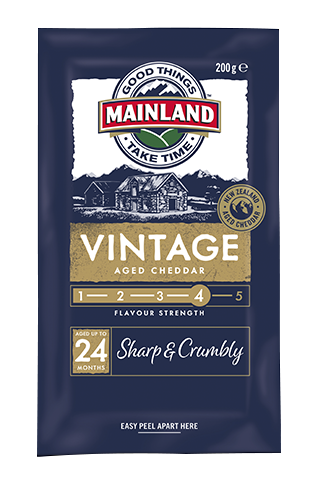 Vintage
---
A real cheese lover's cheese. Aged for up to 24 months, Mainland Vintage cheddar has a crumbly texture and real bite. To enjoy its full flavour, leave it out of the fridge for 30 minutes before serving.

Sizes: 400 g, 200 g, 125 g

Nutritional Info
Like the name suggests, our Vintage Cheese is older than most of our cheeses, it has aged gracefully making it perfect for cooking a quiche, cheese scones or sprinkled over hot pumpkin soup with ground black pepper. Heaven!
To enjoy the real flavour of Vintage, pull it out of the fridge 30 minutes before you want to eat it - the rich flavours would have seeped through the cheese just perfectly.
Other Extra Strong Cheeses